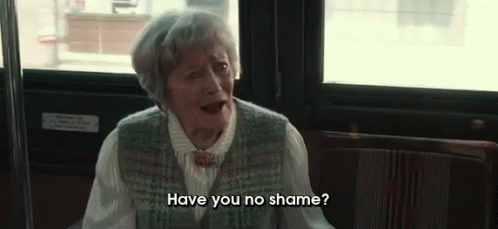 I have lots of shame, actually.
This includes my ARC list.
At the moment, I have 35 ARCs that still need to be read and reviewed. Technically 34 because I don't have one yet, but I know it's going to get to me.
I know, Hermione, I know. It's bad. It's really, really bad and completely out of control. Right now, I have 8 I need to read before August, 11 for September, 8 for October, and then the rest are either December or 2020.
It's not good, right? I have the privilege of getting ARCs and I definitely abuse use that power. It's how I read books I'm interested in without having to buy them or use the library. And I know I'm going to see more that I want and go on a requesting spree as soon as I get that number down.
The deadly circle.
I do my best to keep it down by a few techniques.
1. I do reading sprints!
Reading sprints is this thing when you pick up about three books, set a timer for 20 minutes, and then read for those 20 minutes. If you don't get into it, time to put the book aside and move on.
2. I liberally DNF them.
I know that there are people who don't DNF ARCs. I get that. Giving them an honest review, to some people, means reading everything of it. For me, I give an honest review even if I don't finish it because there was something that kept me from finishing it that needs to be addressed.
3. I read multiple at once.
Yeah, I tend to have a couple going at the same time. Maybe more if I have a physical one or two (usually they're e-ARCs, though). I try to keep the genres apart so I don't read multiple books in the same genre and get confused. But, I just read them.
4. Set a reading goal.
There's a wonderful app I use called Reading Planner. I have an android so I don't know if it's available for iPhones. But, basically, you search for a book that you're reading, add it to your list, update the pages if needed, and then you can set a goal for yourself. That can be pages per day or finish by a certain date. I usually use the latter! Then, it tells me how much to read each day to finish it by that specific date.
---
So, in a nutshell, I want you all to shame me for having that many ARCs and my tips on how to keep the list down. Even though I know I'll go and request more as soon as I get it down to a more respectable number.

Is your ARC list as out of control as mine?
What tips do you have to keep your list short?