Top Ten Tuesday was created by The Broke and the Bookish in June of 2010 and was moved to That Artsy Reader Girl in January of 2018!
Book besties. We all want them desperately. And I know I have a fair few. When I was drafting this, I kept wincing to myself at how many kept coming up and that I was going to have to limit it. Here are a fair few of them!
---
My fellow Aries! I'd love to be friends with them. They are, in a word, hilarious and amazing. We would be great birthday buddies, too.
Hilarious? Check. Bit of an Aries? Check. Stubborn as hell? Check. Slightly rash? Check. Lou and I would get along well in real life because I loved her in that book.
Gotta be specific, right? Either way, Death was one of my favorite characters from the book. He was so poetic and human. I'd love to be besties with him. And terrify everyone in the process.
Mr. Darcy is me and I am Mr. Darcy. Someone I can be awkward with and vaguely rude, especially without realizing that we're being rude.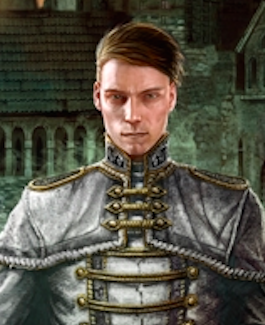 My baby Elend. I think he'd be fun to be around because he's honestly pretty funny and also reads a lot. Totally here for someone who reads a lot.
Wen is a side character in this series, but Jade War cemented my love for her. She'll do anything for her friends and family. Once you have her trust, you have it forever. And I love that in friends.
Charlotte was a complex character. She was fantastic, too. I loved her smarts — I'd love to listen to her talk — and her personality. I bet she'd be a lot of fun, and she needs all the people possible to help her work through her trauma.
I need more aroace friends. So if any of y'all are aroace (or just ace) you need to hit me up so we can chat more. And I love Felicity's passions. She'd teach me a lot and I definitely need that in my life.
As I need more aroace friends, I also need more Slytherin friends. And Evelyn is the Slytherin we all need in our lives. I think she and I would get along pretty well.
Finally, Cardan seems like he'd be a fun friend. Maybe not fun for me as a human, but he knows how to have a good time. And to plot hella good.
---
Do we share any book besties?
Who would you choose?