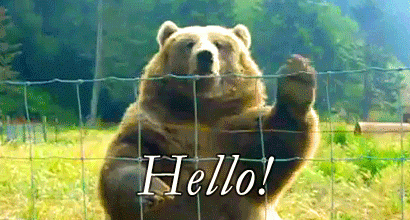 As I said, I wanted to do a Q&A to celebrate reaching 500 followers!
Thank you all for asking your questions for us and for following us. We love all of you and, trust me, I'm so happy that we reached this milestone!
Let's jump into the questions, though!
---
Okay, our profile picture is an inside joke.
I'm not allowed to talk about our name, but it has something to do with it. Either way, it's buff bears dressed like Wonder Woman.
---
Virginia asked: How did Chantel and I meet?
Okay, so we met online. We used the same platform for online role-playing. Got randomly matched together and we decided to continue over email. Then, we just kinda started chatting about plot and characterization. Then we talked about ourselves. Then we just kind of went from there.
Either way, we've been friends for three years now! And, I know that we're going to be friends for a lot longer!
---
Ally asked: Many questions!
If you could only name your cats/dogs/children/plants after book characters from one book series, which book series and which names would you choose?
Hm. I actually have plants that I've named after Harry Potter characters! So, Harry Potter is my series since there are so many names. I have a plant named Fred'n'George because it's very colorful like them. Then I have a prickly succulent thing (I'm not good at plant names) that I named Rubeus because it's got a prickly exterior but it's pink.
Who was your favourite childhood author?
JKR was definitely my favorite. I also loved R.L. Stine because I just adore horror with all of my heart.
What spell from Harry Potter do you wish you could use?
Riddikulus! I'd love to be able to turn things that I'm afraid of into something silly.
What's your favourite breakfast?
I don't really eat breakfast?? If I cook something, it's usually eggs. But I eat an apple at work every day for my breakfast.
Oh also what made you want to go into the field you work/study in? Is that what you always wanted to do? Do you enjoy it?
So, I'm studying social work right now at a master's level. This time next year, I'll have my MSW and (fingers crossed) be licensed as an LMSW. I really enjoy it and I've always wanted to go into a helping profession. For a bit I thought it would be as a psychologist, but social work is way more flexible and doesn't take as long!
---
nsfordwriter asked: Fave things about blogging? What blog posts are you most proud of?
I think my favorite thing about blogging is interacting with you and seeing you all enjoy what I post. I really love that because, as you all know, blogging is hard. It's gratifying to see your hard work recognized.
As for the posts I'm most proud of, I think my number one is the one I did about blogging burnout. We don't talk about it, but it's a serious thing. We talk about burnout in my profession a lot, but not about other things.
---
Soffii @ A Book. A. Thought asked: What genre have you never read, and why? Do you have any unpopular opinion about books in general?
Hm. I never read straight up romance. I can't read romance. It's not my thing. I can only think of one romance book that I've enjoyed before, but yeah. I don't read it! It doesn't reflect me and I get bored.
But, I have tons about unpopular opinions. I've written whole blog posts about it! Schwab, Bardugo, and other authors are way overhyped. Schwab is bad at plotting (never read a book by her I loved or enjoyed a lot). JKR is a horrible person and shouldn't be considered a human rights campaigner. Kristoff's Nevernight series is not YA. Oh and Illuminae is so boring when it comes down to it.
I could go on.
---
Thank you all again for asking me questions! I want to do this again when we get to 1000 followers. Maybe with a giveaway, too. But, we have to get to 1000 first!
Who was your favorite author as a child?
What do you like most about blogging?
What are your unpopular opinions?