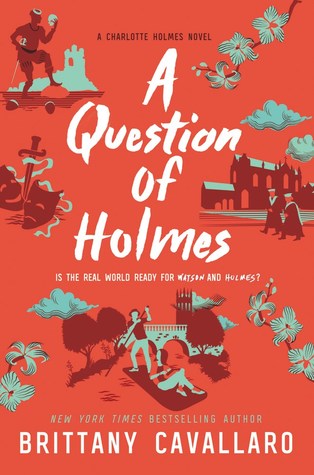 4.5/5
CW: PTSD, death, and recurrence of remembering sexual assault and drug use
A Study in Charlotte – 4.5/5
The Last of August – 4/5
The Case for Jamie – 4/5
Honestly, this was a satisfying ending. I do have issues with the book, but, honestly, I think that it couldn't have ended in any other way.
In my review for The Case for Jamie, I said that I was really getting tired of the same villain happening over and over again in all of the books. So, I was very happy that this one didn't have them in it. Mentions, sure. And they were the catalyst for Charlotte's choice at the end of the book. But, they weren't the villains in this.
The mystery, in a way, is secondary to the story. I found the mystery interesting. A college drama club is putting on Hamlet and there are some odd things going on. I was more interested in the other stuff than the actual mystery, but it was solid. I was just very appreciative that the villain was different. It felt way more like a Holmes story because of that. It wasn't some evil, mastermind family. Just some normal person trying to get revenge. Which, I did like.
But, for me, the story focused around Charlotte. The whole series had been about self-healing. It's moved from being in Jamie's perspective, to a split perspective, to, finally in this book, being told from Charlotte's perspective entirely. In a way, it's her questioning herself and what she wants in this life. And, if the path she is going down is right for her.
I love that self-meditation, especially since you have her trying to navigate what she wants in relationships after she's trying to heal herself from repeated trauma, from sexual assault to the things that she and Jamie have gone through in the series. This series really depicts PTSD well. PTSD from sexual assault. PTSD from being beaten up and the trauma that Jamie has gone through. There were definitely passages in this book about the two of them dealing with their PTSD that resonated with me, especially since they're both trying out therapy to work through things.
Now, the ending. I'm not going to spoil it for you, but it was very ambiguous. It felt like a close to the story while it was still very open for more books if the author decided to revisit it. But, honestly, I loved the choice that Charlotte made in it. I honestly feel like the story couldn't have ended any better than this. I also can't wait to reread the series to see how it all comes together because, in the end, this was a tightly written series and you can see the hints in the titles.
Definitely an impressive "retelling" that has earned a spot on my Holmes-focused bookshelf!
---

Have you read this?
What did you think?