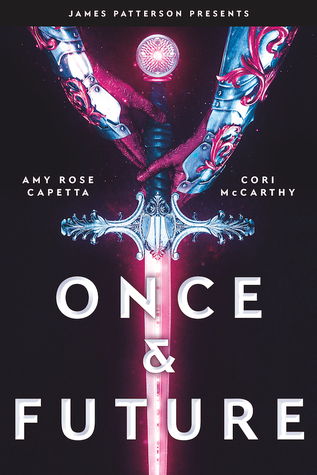 DNF @ 39% – 1/5
As I said in a First Lines Friday I did about this book, I was very wary of this book. Mainly because James Patterson put his name on it. First, I know that this isn't by James Patterson. I completely realize that. However, it has his mark on it.
And his mark, to me, says that everything's going to be nearly the same with slight changes made so it's not 100% the same. The characters are all going to fit a certain archetype. The main character is going to be bold and reckless. The rest of the team are going to fade into the background and barely be distinguishable from each other. The plot is going to be contrived. The series will never end and just go on and on and on for eternity.
That's James Patterson's brand and the brand of people he works with.
And, I can say, I wasn't wrong.
The only thing that this book has going for it is the diversity. And, damn that diversity was great! Gender-bent, Arabic, female Arthur (aka Ari) who's totally queer. Merlin's gay. There are black siblings; one is genderfluid and missing a hand, and the other is queer. Gwen is a queer woman of Asian-European heritage. Then, there's an ace character but I didn't get to the point where she was actually called ace.
Like, I loved how naturally the diversity came and how it was on the page. It wasn't mentioned once and forgotten. It came up again and again and again. I enjoyed that because it just shows that diversity can be done right.
However…
The story wasn't anything special. In the almost 40% that I had read, nothing happened. Lots of banter and flirting and sex. When I decided to throw in the towel with this book, I had just gotten to meeting the bad guy in person. And the bad guy? Basically like any other James Patterson bad guy. Humorous, sarcastic, a part of a huge company.
Nothing to impress me.
So, this book isn't by James Patterson. But it felt like it was. Which is exactly what I thought would happen when I saw he had a publishing company. I'm very glad that these diverse books are out there, but I don't like it that James Patterson is pumping them out. I know that from this experience, I'll be staying away from his publishing company.
---

Have you read this? What did you think?
Am I the only one who hates James Patterson so much and thinks that he's a literary plague?