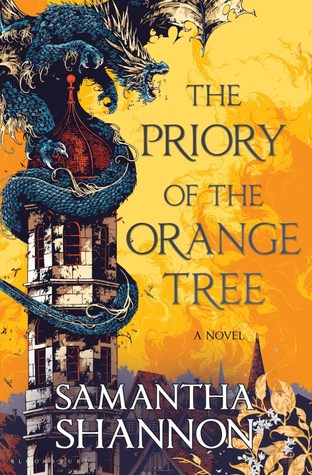 4.5/5
I've been sitting on this review for a while. And, I still have no idea what I want to say about it. Bad, right? I loved it and I had some things that I didn't like, but I literally don't know what I want to say about it. It's an 800-page beast — or, should I say, dragon — of a book so my brain just doesn't know what I want to say.
The book has a few main characters telling the story. Ead, a woman from the south sent to watch and protect Queen Sabran IX. Niclays, a scholar and doctor who gets caught up into things he doesn't want to. Loth, Sabran's best friend. Tane, a woman hoping to be a guard.
I didn't like all the perspectives. Honestly, I really lived for Ead's perspective. Like, I loved it. Ead and Sabran were definitely my favorite characters. I could have done without Niclays's perspective completely. Loth was fun, but I didn't love him at first. And Tane was confusing for a while about why she was included.
The characters were great. It was such a slow-burn book, too. Lots would happen, then there was a period of calm. I have to say that the book did drag in the middle, but that was something I expected given its size and that it has to set the stage for everything.
It has a bit of everything in it. Religious conflicts, reshaping religion, dragons, magic, fights, living gods/goddesses, political overthrows, lovely queer women. Seriously, anything you might want, it's probably in here.
Personally, I was sold on this book when I found out that it was queer. There just aren't enough queer women in epic fantasies. And, I have to say, that the build to the relationship was beautiful. It takes a long time for it to happen. That made it realistic to me. Slowly things happened and, finally, it happened. And the ending with it? I about cried because it was so happy.
As I said, I had some issues. I felt like a few perspectives could have been done without. I also didn't love the direction it took at points. And, it did drag at areas. However, it was very good. I'd definitely reread this dragon of a book at some point!
---

Have you read this? What did you think??
Are you intimidated by the size?