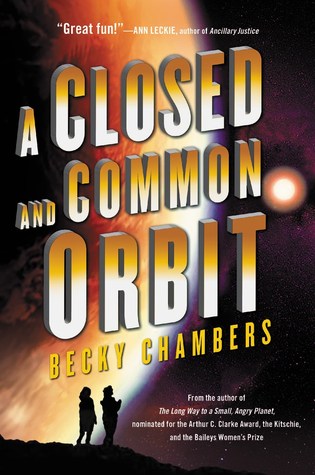 4.5/5
THERE WILL BE SPOILERS FOR BOOK ONE!
I'm serious, though. I'm going to spoil the end of the first book for you (and you can find my review here if you haven't read it!) so turn away if you want to remain clean for this one.
Everyone turned away who hasn't read it or who isn't planning on it? Good.
First of all, I think I liked this better than the first book. I'll touch on that along the way.
This picks up where the first book ends. Lovelace is new in her body, completely unknowing about her past self and granted a new life, one that's very different than what she had because now she has a humanoid body. She's being sheltered by Pepper and Blue, living on a planet. In the process, she takes a new name, Sidra, so I'll be referring to her as such.
Her story in this is so compelling. I loved the complex interplay of human rights and what it means to be human. Sidra, as AI, isn't considered human in this world and her having her own body is actually illegal. She has to constantly pretend to be human, perfecting herself until she is what she says she is, although she doesn't feel it inside.
Perhaps I found it so compelling because of my journey as a transman. I'm definitely more genderqueer than masculine, but I present very masculinely (is that a word? it is now) and use male pronouns. However, it took time for me to feel male and to feel like I was allowed to inhabit this world as a genuine person. So, I felt the disconnect that Sidra had throughout the story and how it was a constant battle to really feel like she belonged.
On the other hand, there's Pepper's story. I don't consider it a spoiler to say this since Pepper says she was raised by an AI — which is why she supports and is there for Sidra, harboring her despite there being a huge risk — and then you're introduced to a new perspective. It takes you back to when Pepper was a child, known only as Jane 23, and how she grew up into the woman she is today.
That story was just so sweet because it shows that it doesn't matter who a parent is, just that they impart the right things onto the thing that they are raising. It was sweet to see that story, although it was hard and tense and dotted with the usual hiccups of growing up. And Chambers just wrote it so well, too. I really felt like Jane was a lonely 10-year-old, then an angsty teenager, and then an adult trying to make a better future for herself. It was incredibly well-written.
And, along the way, you have the great rep that captures the diversity of a series. There's Tak, an Aeluon, who uses he/she/xe pronouns as xyr gender changes. I just loved the fluidity of it and how the species was explored further in this book since Aeluons were mentioned in the first book, but it was very brief. It was wonderful to see the diversity highlighted yet again, just as beautifully as it was done initially.
Another reason that I think I liked this book better than the first was that it has a smaller cast of characters and the story is more cohesive. I described The Long Way as a series of vignettes that were loosely tied together as a journey. Chapters focused on different characters and their stories. But, it was a journey book in the end. This one wasn't like that. It definitely had a destination to get to, which I liked. Also, it was just a lot easier to keep track of the characters in this since there were only five characters rather than a whole spaceship full.
The point of this review: This is a gorgeous series! I highly recommend it. It's not let me down so far, and I'm very excited to read the next book.
---

Have you read this? What did you think??
What's the last book that really connected with you?