Top Ten Tuesday was created by The Broke and the Bookish in June of 2010 and was moved to That Artsy Reader Girl in January of 2018!
d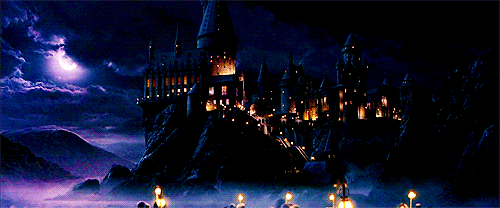 No-brainer, right? I'm pretty sure that I'll see a lot of people with Hogwarts on their list. It's just a great one because it's the first book I really felt at home with.
---
Ever since reading The Book Thief, Himmel Street is a place I'd want to visit. Before the end of the book, of course.
---
The Library of Hurtfew Abbey
Maybe a bit obscure, but I would love to visit the library from Jonathan Strange and Mr. Norrell. It sounds like a joy, although Mr. Norrell would really be annoying.
---
Y'all are lucky I didn't choose a gif that had a balloon that says "I ❤ Derry" because it has a jump scare. Nearly, but I thought I'd be nice. I know, I know. I'd still love to visit Derry. Just for a day. Preferably when Pennywise isn't active.
---
Okay there was no fanart or gifs for this one. But! I'd love to visit the court from The Cruel Prince and The Wicked King. Not for a long time. And I'd like to not get glamoured/enslaved.
---
I love The Burrow. I can picture it in my head. A lovely, little bit crowded, home full of love, laughter, and shouting. Basically my house.
---
Ah, Pemberly. Take me there. I'd love to meet Mr. Darcy and watch the hijinks of the Bennets.
---
Ibis and Jacquel Funeral Parlor
Weird? Maybe a little, but I'm used to it. I'd love to go there and, well, just be a part of American Gods. That book gives me life and this was one of the amazing locations the book, and now TV show, has.
---
I'd seriously love to go here. God, this book and story. Although, I can think of an exact day where I wouldn't want to be there.
---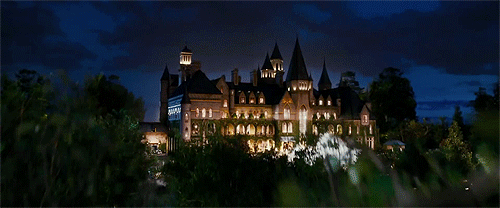 I don't do parties. I really hate them. They make me nervous. But, I'd go to one at Gatsby's house. They're so large, I'd probably be ignored and get to see all the weird/fun things that go on.
---

What places would you like to go to that are on my list?
Any that I didn't list?