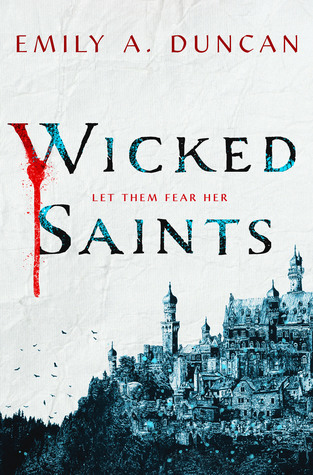 I received an ARC from the publisher in exchange for an honest review!
4/5
CW: blood and the author wrote them all here
I've been pumped about this book forever because the first little bit we got about it was a gothic, Eastern Joan of Arc. I love that sort of thing. Seriously. I do. I kept an eye on it, not very patiently waiting for more. Luckily, I was able to get an ARC from the publisher! I don't think I could have waited until April. (Even though I have it preordered since it is coming out the day before my birthday.)
This book is set in a fictional world where Tranavia is trying to stamp out the magic of Kalyazin. Tranavia is a country that works exclusively with blood magic and they do not believe in gods. On the other hand, there's Kalyazin. They believe in gods and worship them and, for one young woman, they speak to her.
Nadya communicates with the gods. All her powers are due to them and she is on the run from the Kalyazin forces. One night, they attack the monastery she's in and she is forced to flee, meeting Malachiasz and his group.
Malachiasz is a Tranavian blood mage who is trying to overthrow the current reign. He's dark and moody and, aka, everyone's going to swoon over him. Personally, I wasn't that drawn to him. The dark/moody characters don't always draw me in. Their angst doesn't interest me.
For a while, after they met, the plot got lost for me. I got bored because, of course, Nadya starts getting those romantic feelings for Malachiasz. For me, I get turned off when books do that, especially when there can be so much intrigue and worldbuilding that could have been done instead of that. I had zero interest in their relationship and, after reading the whole book, I still could care less and I will root against it.
Another major character is Serefin Meleski. He is the prince of Tranavia and a blood mage. He is also my favorite character because he's just so fun to read. I loved his sections the most as Nadya's became more and more romance filled, while Serefin was plotting various things. And that ending with him? Super pumped to see where the book goes from here.
The plot is a lot like others I've read, but I loved the magic and the gods. That made it very unique from other YA fantasy that I've read recently. For the most part, the book does not feel like YA. The biggest YA feeling, for me, was the romance and I don't care for romance whatsoever in my fantasy books.
One last thing that kind of annoyed me was the fact that there are so many gods that Nadya communicates with and mentions, however there is no glossary that will help you remember them. I like glossaries in my fantasy books. I love lists of people when there's going to be a larger cast of characters. It just helps me keep everything straight. So, I kept craving one for this and I hope there's one in the finished copy.
Besides those things, it is an excellent book. The writing is superb. The magic is so unique (and now I'm seeing a rise in blood magic when I search through YA ARCs on Netgalley or Edelweiss). For the things that pulled me away from the story, I'm hoping they get resolved in the next book and I'm very excited to see where the series goes!
---

Have you read this one yet? What did you think?
Is this one on your TBR?