First Lines Fridays is a weekly feature for book lovers hosted by Wandering Words. What if instead of judging a book by its cover, its author or its prestige, we judged it by its opening lines?
Pick a book off your shelf (it could be your current read or on your TBR) and open to the first page
Copy the first few lines, but don't give anything else about the book away just yet – you need to hook the reader first
Finally… reveal the book!
The problem with growing up around highly dangerous things is that after a while you just get used to them.
---
By the time you read this, I'll probably have finished the book. It's such a fast, middle-grade read. And I'm enjoying it, which makes it go even faster for me. It's a part of a publishing company from an author that I never was able to get into, but I'm super impressed by it. Oh, and it features mythology not usually represented in our culture.
It is…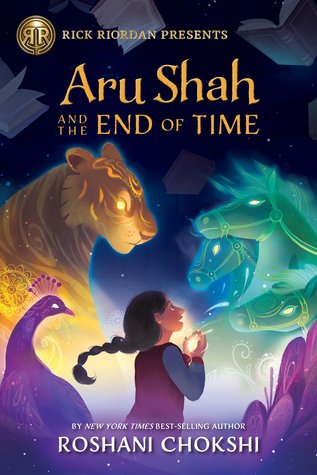 I love Hinduism. I find it so fascinating and have since I was first exposed to it as a child. (Of course, that was through the horrible representation of Indiana Jones and the Temple of Doom, but I still loved it. Funny enough, I have a shrine to Kali in my room. Tangent, I know.)
However, I was never into Rick Riordan as a child. The humor in the Percy Jackson series never hit home for me and it felt too familiar, in a way. In other words, it just didn't work well. And when I saw that he was starting his own publishing company, my brain immediately went to the horrible James Patterson. Yet, I decided to pick this up.
I'm enjoying it. It's such a fun read. I'm halfway through it (at the time of writing this) and I've already wished for the second book on Netgalley and added it to my shelf on Edelweiss because it's so sweet.
There will be a full review for this, but, let's just say, it's a cute book and I'm looking forward to the series.
---

Have you read this? What did you think?
Do you have any cute middle-grade books you'd recommend?