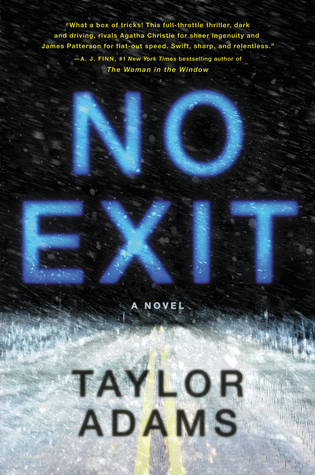 5/5
CW: parental death, cancer, kidnapping, and violence/gore
When I got this as my Book of the Month choice, I wasn't exactly sure of the ride that I would be going down. The description vaguely reminded me of The Anomaly by Michael Rutger because that was such a fast-paced read and I absolutely devoured it. But, really, I had no idea what I signed up for when I opened the book.
I could have read it in one day, but I split it up over a week and made it my morning read. That left me wired and wondering. Each time I stopped, something new had happened. The twists and turns were unexpected (for the most part) and I was seriously left impressed by it.
Darby goes to school in Colorado. She's frantically trying to drive home because her sister texted her to let her know that her mother is in the hospital dying of pancreatic cancer. However, there's a blizzard. Unable to drive any further, she stops at a rest stop with and meet a few other people taking shelter there.
Trying to text her sister and mother back, she searches for a signal and finds a van with a child inside. A child with duct tape over her mouth, obviously kidnapped.
The story just explodes from there. It was so tense and crazy that I never wanted to put it down. I was never quite sure where it would go next. Darby was an incredibly strong character. No matter what, I was rooting for her and wanting her to make it out of this situation alive. It was exactly the kind of thriller I needed in my life! Now, I can't wait to try more of this author's books.
---

Do you have a favorite winter-themed thriller?
Have you read this one yet?