4/5
CW: graphic gore and other disgusting things, and death
On with the reread! I love it. So good.
Is that a proper review? Probably not, but I guess that's how it rolls. The story picks up a few months after the events of the first book, Dr. Warthrop is asked by his friend's wife to find his friend in the forest while he was hunting a monster Warthrop considers mythical.
The wendigo.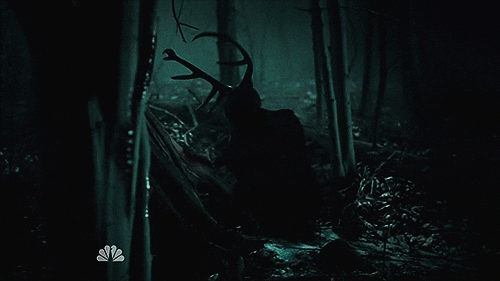 I've been surrounded by the mythology of the wendigo for most of my life. There are so many different myths to it, but it all comes down to a human becoming a creature that hunts other humans. It's not pretty, as you'd guess. The above gif is taken from Hannibal because it uses the wendigo as a symbol throughout the show.
And, I really like this book because it's different with its mythology. Wendigos create other wendigos because the person hears the call of it. And, that's how it keeps going and the species keeps alive.
In this book, Warthrop's past gets uncovered and he has a bit of growth in the story. For me, Will Henry stays much the same. Sometimes he feels more like a side character despite the series being about him and told by him. He's just overshadowed in his own story, which is interesting to think about.
Of course, the book is gory. It's pretty gross at times, so you have to be careful where you're reading it. It also takes an interesting veer with the plot. I do think this is probably the weakest book in the series, but there are so many things discovered and brought up that link into the final books that I keep it rated high.
The books continue toying with a specific theme and by rereading the series, I'm able to see it more and more. Of course, I can't talk about it until later — which sucks for the review — but I mentioned it abstractly in here.
So, I'm just chugging along with this series reread and enjoying it the whole time!
---

Are you familiar with wendigo mythology?