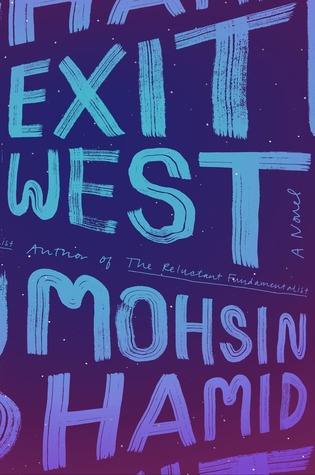 2.5/5
CW: wartime violence, parental death, and mentions of radical groups
I didn't think that I expected to give this rating, honestly. I thought I would like this book more, but I think this issue comes down to my issue with magical realism. More on that later in the review, though.
What I really enjoyed about the book is the characters and their journey. It starts in an unnamed country in the great wide "east". Nadia and Saeed meet there in a country on the brink of war. When war breaks, they decide to uproot together and go to the named west. Aka London.
I really loved that it went from this unnamed "foreign" place to a named place that isn't foreign to most people. I think that it really shows our thoughts as westerners. (I'm a westerner so there's that.) I can honestly say that I don't know many cities in the "east". It's never been a part of my learning, sadly enough. And Hamid really used that and I loved that. I loved it.
After getting to the west, the story dropped off for me. It kind of got boring, although I still loved watching the characters and their diversity. In the east, Nadia wears clothes that cover her whole body (I'm not being specific because I don't want to use the wrong word) but uses drugs and has sex. Saeed is devout and doesn't want sex before marriage. In the west, their difference show again. Nadia envelops herself in being an immigrant and making a community for herself while Saeed desperately wants to recapture what he once has, meaning that he finds more radical groups.
I really loved how it showed those different reactions for immigration. Some immerse themselves in the new culture. Some long for the old times. And I loved how Hamid did that. It was so great to read all of the diversity and different reactions.
If the book had only had those things, I would have rated this four stars. Seriously. But, then there's magical realism. I've read three books with magical realism and only liked one. (For reference, those books have been: The Buried Giant, The Astonishing Color of After, and When the Moon Was Ours.)
I don't like the tone that comes with magical realism. I don't like that magic is randomly brought in and not explained whatsoever. It's far too detached and random. I love random, but not magical realism. There were times in this book where there were random perspectives that added nothing to the story. It made no sense to me as a reader.
And, I think that magical realism really isn't my kind of genre. The writing style/tone and random additions to the story really just took me out of the story, which is a shame because I wanted to be more invested in Nadia and Saeed's story.
---
Is there a genre you have that you've tried a few times and never gotten into?