This tag was created by Cara (@Wilde Book Garden) I saw this tag on Tova's blog @Petyr Baelish Books and both of us are Shakespeare fans so we are excited to do this tag! Last year we assigned each other to read our favorite lesser-known Shakespeare plays. Caidyn read The Tempest and Chantel read Richard III but if we both assigned each other our favorite play we probably would've both read Macbeth.
Chantel will be in purple. 
Caidyn will be in blue.
---
Much Ado About Nothing:
Your favorite bickering couple whom everyone knows really care about each other (can be romantic relationship or friendship)
I was totally at a loss for the answer to this. There is the obvious answer (see Caidyn's answer) but instead, I'd rather go with two friends who I adore and would've loved to see their relationship blossom. I'm talking about Liesel and Rudy from The Book Thief. Ooohhh good one. Very good. They fight and bicker as younger kids do, but it's also clear that they care for each other. It has to be one of my favorite portrayals of friendship in a book ever. 
I could be a shit and just name the Shakespeare characters they're referencing but I won't. I'll behave myself.
My choice is kind of obvious. I don't ship them really, but they're the only two that fit the bill.
Measure for Measure:
A book whose plot or genre is really hard to explain to other people.
I would definitely say More Than This by Patrick Ness is difficult to explain without spoiling anything and the best thing to do is read the book knowing as little as possible. Don't even read the summary of the book, just read it. 
I'd say American Gods or The Seven Husbands of Evelyn Hugo or The Heart's Invisible Furies. They're all books that I've never been able to nail down how to describe because my description pales in comparison to the books.
A Midsummer Night's Dream:
Your favorite book featuring fairies or elves
Is it sad that the only book I can think of is Harry Potter? However, I would feel bad if I didn't honor Dobby the House Elf. 
So, I will say Harry Potter and the Chamber of Secrets by J.K. Rowling because it's where our hero Dobby is introduced to the world. 
The Cruel Prince by Holly Black fits for me! Has all of that and more. I could choose Harry Potter, but this was the one that came to mind.
Hamlet:
An underutilized female character
This is difficult because most of the books I read have strong female characters but it is difficult to think of a book I've read recently with an underutilized female character. Instead of picking a random character from a book I recently read, I'm going to say that I would like more strong female characters in fantasy and sci-fi specifically. I'm far less likely to pick up that genre if the books are dominated by men. 
No clue. I don't pay attention to that stuff as much. I mean, I wish that more female side characters had been used in Harry Potter, but they weren't underutilized per say. They were used. Also, more female characters in Scott Lynch's books, much like he had inRed Seas Under Red Skies.
The Sonnets:
Choose your favorite poem
I'm not the biggest fan of poetry. The only time I really read poetry was in class and that was required. However, nothing has really stuck with me through the years, so I don't think I have a good answer to this. 
I like The Flea by John Donne. It's a funny poem if you can track what's going on. But, actually, I'm a huge fan of Shakespeare's sonnets. They're very good.
Richard III:
A protagonist willing to do anything to get what they want
This is so fitting for Dear Dicky. I definitely can't think of a protagonist who is willing to do anything. I mean, Macbeth is definitely in that category even though Lady Macbeth was fueling the fire. There's also Jorg, but other than that I don't read a lot of books where the protagonist is so ruthless. 
Jorg Ancrath from Prince of Thorns. Jesus, he literally would do anything. He'd kill you and your furbaby if it fit what his ambitions were.
Antony and Cleopatra:
Your favorite trope/bookish buzzword/historical figure/etc. for which you still haven't found that perfect book
I actually think that the recent anthology All Out is probably the closest thing to this for me. It's untold stories about queer characters throughout history and I LOVE that. Different queer stories told in different time periods. I'd like more of this please. 
Anne Boleyn. I love her and I haven't found the perfect fiction book for it. The closest I got was with Perseverance by Charlie Fenton, an author I love and someone I trust to give me good book recs within Tudor history.
Titus Andronicus:
A lesser-known work by a popular author, one which you want more people to read
I don't know how popular this book is, but I would say Damned by Chuck Palahniuk. It's been a long time since I've read it, but it's one of the few books of his I could actually get through. It's a black comedy about a thirteen-year-old girl who gets sent to hell after she dies. I found it pretty entertaining. 
One, Titus Andronicus sucks. The play sucks. It's ridiculous and violent and likely not written by Shakespeare.
Two, I don't know? I don't really read popular authors. And if I do, I read the popular stuff that everyone's talking about. Which then I usually dislike and don't want to read more by the author.
King Lear:
A complex female villain or antihero
Female antihero? Where? Seriously, I want some recommendations! I've yet to come across a decent female villain now that I think about it. Outside Harry Potter of course. This is something I need in my life though. SAME. I need the recs.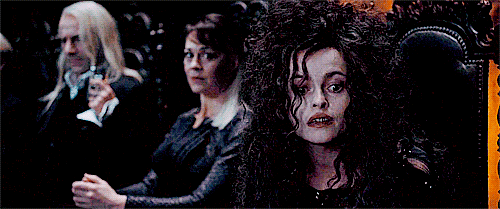 So, Bellatrix or…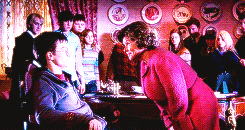 Umbridge. They're villains and complex ones at that.
The Taming of the Shrew:
Choose two polarizing books, one you loved and one you hated
I will say that I'm pretty in the know when it comes to polarizing books, but I usually don't read them. If I read a book that's recently come out it's not because it's polarizing. It's because I wanted to read it. I usually avoid hyped books or popular books until the hype has died down and even then I'm not spared from disappointment. 
I don't pay attention to books that are polarizing? I more pay attention to whether they sound like something I'd like. It's usually that everyone loves a book and I hate it.
"Give me your hands, if we be friends"
Tag some people!
We are actually going to tag people because we haven't seen this tag very much and we thought it was very fun!
and
Please check all of these lovely ladies out and if we didn't tag you and you want to do the tag please do! The more the merrier actually.