So, we got awarded this in December. And it's February. Oops. But, we're close? Kind of? Just go with it and suck it up. We're getting it done.
Like usual, it's Emma from Thoughts of a Brown Eyed Girl who nominated us. Caidyn is the one who killed her because, apparently, he's hilarious. And the way she phrased it made it seem like he killed both her and Chantel, but who knows. Last he checked, Chantel was alive.
But, a huge thanks to her! We always appreciate how she thinks of us for these things. It's always sweet and they're fun to fill out.
So, these are the rules for this thing:
Thank the blogger who nominated you and link back to their blog.
Answer the questions sent to you.
Nominate around ten bloggers.

We probably won't follow this one.

Create your set of questions for your nominees.
List the rules and display the Brotherhood of the World Award logo in your post.
Caidyn will be in blue.
Chantel will be in purple.
---
1. Last book you read that lived up to the hype?
NONE OF THEM. But, seriously, IT and American Gods are the two I can think of. They both have tons of hype around them and I think they deserve it.
Caidyn and I are both jaded when it comes to hyped books, however, I read The Seven Husbands of Evelyn Hugo by Taylor Jenkins Reid last month. Geez, what a fucking mouthful. I can't even contain myself when talking about this book. I'll just link to my review where I gush about my Cuban, bisexual goddess. 
Also, I think Caidyn is planning on reading it soon so don't be surprised if he hates it. 
I don't hate everything that you like.
2. First thing that comes to mind when you hear the word "love"?
Family. Is that weird? Maybe. But when I hear love, I think of family since anyone I love is automatically in my family.
This isn't a loaded question at all. Anyone else feel like they are being interrogated? For me, the first thing that comes to my mind is the people that surround me and support me. That doesn't mean those are the only people I love, just the first thing that comes to mind. 
Also, Watson.
But Watson wants to kill you.
Maybe. 
3. A book that you think deserves a better movie/TV adaptation?
Harry Potter and the Order of the Phoenix. That movie sucks ass. It left out so many important things that carry into the next movie and then it was the worst.
Goblet of Fire was so much worse. THE FUCKING HAIR. Ugh. I can't get into it. Yeah, this hard for me because I don't really have any issues with adaptations. I guess if I had to pick one it would be A Monster Calls because I was really disappointed with the movie. It didn't even have close to the same impact despite having Felicity Jones in it. 
THEIR HAIR WAS GLORIOUS AND AWKWARD IN THAT MOVIE.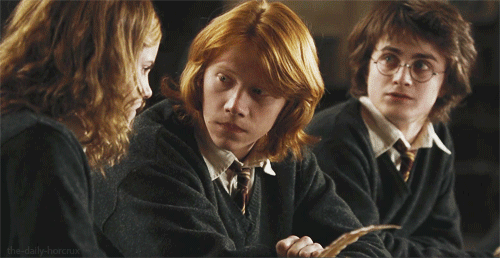 Feel free to let us know in the comments who's right and who is clearly wrong. 
She's wrong.
4. Favorite holiday?
Halloween!!
Thanksgiving. Because food. 
5. Favorite badass male protagonist?
Dumbledore.
Why it gotta be a dude? Is it bad that I can't think of anyone other than Evelyn Hugo? Okay, let me think…Thomas Lynch. There, done. 
Because poor men feeling bad about not being included.