Chantel found a group on Goodreads, Monthly Recommendations, that really called to her, so she texted me (Caidyn) about the possibility of adding this as a monthly post. After all, we're looking for more things to include in our monthly repertoire. January's recommendation is the best first books in a series!
Caidyn will be in blue.
Chantel will be in purple.
---
Off the top of my head, I can think of quite a few. I'll try to narrow it down to my top three books. So here we go.
1. The Lies of Locke Lamora by Scott Lynch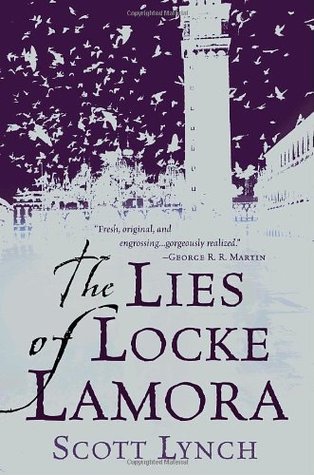 Everyone talks about this book and I finally jumped onto the bandwagon last year. It's fantastic! I mean, I've only read the first two books, but this series started it all off with a bang and introduced you to fascinating characters.
2. The Prince of Thorns by Mark Lawrence
Most likely, everyone's at least heard of this book and author. He's pretty popular and this was his first book ever. It's also a fantastic start to a series that I adored. While our MC, Jorg, is a little shit to the extreme, I always found myself somewhat rooting for him. That takes talent given what Jorg does throughout the book.
3. A Plague of Giants by Kevin Hearne
Technically, this book isn't a series yet. I read it late last year, and you can find my review here, and I was so impressed by it. It's a sweeping epic fantasy novel that's on the same level as Game of Thrones. There are many characters, different nations, powers that reminded me of Avatar: The Last Airbender, and it's told in a very unique way. I'm excited to see what happens next.
---
I read all of my books in 2017 so I will link my original reviews as well as a Goodreads summary. All of these books feature main characters and side characters who are queer. 
1. Every Heart a Doorway by Seanan McGuire
I don't think there will be any surprise at this choice. It's a popular series which follows different characters in different worlds. This first book takes place at a school where children who have gone to portal worlds end up back in the real world and we are introduced to a cast of characters (some who are queer) and the possibilities of the series are endless. I do have a soft spot for this book because it's the first time I read about a character that is explicitly asexual on the page. 
2. The Abyss Surrounds Us by Emily Skrutskie
I'll admit this is a duology I almost didn't pick up. It's sci-fi and takes place in the future where there are giant sea creatures called Reckoners who are then trained to fight and protect. However, this book is fantastic. Cas, the main character has to make decisions which are morally gray and I think it's done very well. In addition, there is an f/f romance, but it's a slow burn and angsty as all hell. Even though I wasn't a huge fan of the second book The Edge of the Abyss, I have no issue recommending these books because I rarely hear them talked about.
3. Not Your Sidekick by C.B. Lee
This is the only series on this list where I've only read the first book, but let me tell you I will be reading how many ever books come after as long as they follow the same four characters. I'm not big on superheroes. Never have been, probably never will be, but this is far more than that. This book focuses on Jess, who is waiting for her superpowers to present themselves, but they don't. This leads to her getting an internship close to a supervillain and her crush from school. I am such a sucker for a story where crushes turn into something more and I was not disappointed here. Go check it out!