Two weeks left of November and that brings us one week closer to Chantel's favorite holiday. Caidyn will not be surprised at all if she chooses to do a whole post about her love of Thanksgiving. And, it's Friday, so that makes it everyone's favorite time of the year.
First Lines Fridays is a weekly feature for book lovers hosted by Wandering Words. What if instead of judging a book by its cover, its author or its prestige, we judged it by its opening lines?
Pick a book off your shelf (it could be your current read or on your TBR) and open to the first page
Copy the first few lines, but don't give anything else about the book away just yet – you need to hook the reader first
Finally… reveal the book!
Also, for the rest of this month, I'm going to provide the link to our poll if you haven't taken it yet. This is us trying to be better for you guys and so you can see more things you'd like to. Click here to take it! Remember, this is us working for you. Three out of our thirty-one followers have taken the poll, so please take it if you haven't! This is us trying to make the blog better for all of you.
Caidyn will be in blue. 
Chantel will be in purple.
---
The man in black fled across the desert, and the gunslinger followed.
The desert was the apotheosis of all deserts, huge, standing to the sky for what looked like an eternity in all directions. It was white and blinding and waterless and without feature save for the faith, cloudy haze of the mountains which sketched themselves on the horizon and the devil-grass which brought sweet dreams, nightmares, and death. An occasional tombstone sign pointed the way, for once the drifted track that cut its way through the thick crust of alkali had been a highway. Coaches and bukas had followed it. The world had moved on since then. The world had emptied.
---
Personally, I find that opening quite beautiful. When you read it, you can see how literary it is.  I mean, seriously. It brings to mind something scary and also a world that is hauntingly beautiful. I'd like to visit it. Could be fun.
So, what's the book? The hint is in the very first line. Recently a movie, too. By one of my favorite authors.
What is it? It's…
THE GUNSLINGER BY STEPHEN KING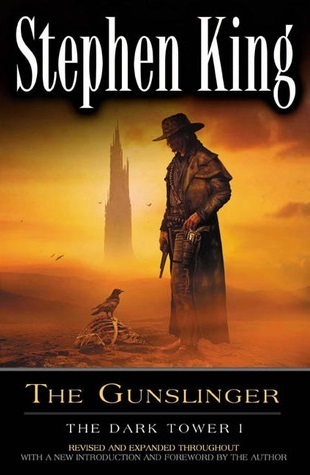 I haven't read this book yet, but I've wanted to for ages. Before the movie came out. It's King's major attempt at something utterly sci-fi and fantasy, not just themes while also being rooted very much in the present world. Not only that, but Pennywise comes from this world and I'd like to know the full context through the series. After two other very short books, I'll be reading this one.
---
The monster showed up just after midnight. As they do. 
Conor was awake when it came. 
He'd had a nightmare. Well, not a nightmare. The nightmare. The one he'd been having a lot lately. The one with the darkness and the wind and the screaming. The one with the hands slipping from his grasp, no matter how hard he tried to hold on. The one that always ended with—
---
I will give you a quick look behind the curtain here. These First Lines Fridays are getting harder and harder each week and honestly it's because I've been reading the same books for over a month now. I could choose the first line from a book I'm going to read soon, but then I won't have that book to use later on down the road. So, I have a dilemma. What I am going to do moving forward (for the time being) is I'm going to pick a book I own and have already read and put it here. Hopefully, I don't run out anytime soon…but I might. 
This week I'm going to start with the first Patrick Ness book I read, thanks to Caidyn, and it's the reason I fell in love with his writing. This certainly isn't the first book of his I've talked about here and it likely won't be the last. 
Without further ado, I present…
A Monster Calls by Patrick Ness
I know I've probably told this story a lot, but basically, Caidyn recommended this book to me and I'm forever grateful. It is beautiful and it broke me. It jump-started my love for Patrick Ness, one that has only grown as I've read more of his books. I saw the movie earlier this year, and by that I mean I paid money to go see it in the theater because I wanted to see it so much and I think I ended up being a bit disappointed. Ultimately, I don't think it had the emotional impact the book had on me and as much as I wanted it replicated, it didn't happen. If you've never read the book, you might enjoy the movie, but I'd recommend sticking with the book. It's illustrated beautifully and I don't know what else I can say about it. Just go read it.