Hello all,
We've been tagged once again, this time by Emma Reads and since we enjoy doing tags so much, we're going to give this one a go.
The original tag was created by TheBookishUnderdog so go check out her answers.
This also gives me (Chantel) a chance to talk about some books I might never talk about otherwise.
Caidyn's answers will be in blue unless he changes his mind.
Chantel's answers will be in purple because I'm predictable. 
Find a book on your Shelves or e-reader with a blue cover. What made you want to pick up this book?
I ended up going with The Complete Persepolis by Marjane Satrapi. It has teal on it, shut up. 
I don't believe I've ever talked about this book, but I'm gonna. Now, if you haven't heard about this book, it's a coming of age memoir in the form of a graphic novel and it's about the author's childhood in Iran during the Islamic Revolution in the '80's. Watching the country get stricter and stricter in terms of prohibiting Western culture is fascinating. The second part of the book is her time in Vienna as a teenager which is an interesting experience as well. I'd highly recommend this book, there is some disturbing imagery, but ultimately it's a quick read and just fantastic overall. 
Teal counts as blue. (At least, it does where I work. My boss can never tell the difference.) But, this is a really good book. Probably one of the only graphic novels I really liked for the story.

Now, onto my choice.
So, I chose Doctor Who Psychology: A Madman With A Box, edited by Travis Langley. So, I picked this book up because I went into Barnes and Nobel with an express intent to buy a book. I wanted one and only one and it was within my price range. So, I got it. It's basically a book that's full of essays on, you guessed it, the psychology of Doctor Who. There are essays about the Doctor, some companions, etc. It looks super good and I really hope I can get around to reading it soon.
Think of a book you didn't expect to enjoy, but did. Why did you read it in the first place? 
I didn't expect to enjoy Prince of Thorns by Mark Lawrence as much as I did. I ended up giving it four stars in my original review. 
Caidyn recommended it to me and when he told me Jorg was a horrible person, but you end up rooting for him. I was intrigued since it's established that I don't like villains or anti-heroes, rooting for this character was definitely a different experience. 
Muahaha. I told you it's good! Mark Lawrence is King for me. (And I hope he sees it. I love you, Mark.)

But, I'm actually having a really hard time figuring out a book that I felt this way about. Maybe More Than This by Patrick Ness. Sorry Chantel. But, I gave it four stars in my original review.
I mean, it was endorsed by John Green and it's YA and seemed to be angsty at the outset. But, I wound up really liking it and loving how it dwelled on reality and identity. What is real? What isn't? Is there something more waiting out there for us?
I'd like to think my endorsement means more than John Green's. 
Stand in front of your bookshelf with your eyes closed and pick a book at random. How did you discover this book?

(This gif sums up both of our reactions to the books we picked.)
The Abstinence Teacher by Tom Perrotta.
Apparently, I bought this at Goodwill, but I have no idea why I bought it. This is not good. 
I'm questioning your choices, too, Chantel. Like, does the teacher teach the abstinence or is the whole male cheerleader thing teaching him that people are going to make sure you're abstinent or what? Is it like Mean Girls? If it's anything like that, I might actually like it. BTW, that's great advice. A+ to the pervy gym teacher. 
But fucked if I know what' I'm going to pick… especially since I have too many bookshelves. Update: I spun around in very fast circles to confuse myself since I have, in my tiny ass room, five bookshelves of varying size. I almost died during the search.
Oh Jesus… I picked The Lucifer Effect: Understanding How Good People Turn Evil by Philip Zimbardo.
So, this is going to take a quick crash course in psychology. Zimbardo is famous in the social psych field. Basically, he created the whole movement about personality only being situational and the effect of roles. He created the Stanford Prison Experiment where (like all good psych researchers) got some students at Stanford University to participate. They got split into two groups, Prisoners and Guards. The prisoners were picked up in the middle of the night from their homes, "arrested" and brought to (again, like all good psych researchers) the Stanford basement where they had made fake cells.
Chaos reigned. The guards treated the prisoners so badly and the some of the prisoners literally had to leave because of emotional trauma that the experiment ended after three days. When it was supposed to last for two weeks. And halfway through, they would have changed sides where the guards became prisoners and vice versa. But, Zimbardo and others were so worried about what would happen that they ended the whole thing.
And that's how I "discovered" this book. I was at Half-Price Books, saw a name I recognized, and had to buy it. Zimbardo is a legend in psychology.
I actually learned about the experiment and Zimbardo in a Psych class and I wanted to read this book at some point. 
Pick a book that someone personally recommended to you. What did you think of it?
It's no surprise Patrick Ness is my favorite author. It's also not surprising that Caidyn introduced me to him with A Monster Calls. From this book on I was hooked. I would sincerely worry about anyone who says this book doesn't touch them emotionally. Everything about this book is beautiful and heartbreaking. It is the best book that I've read of his. And the movie was such a letdown.  If you haven't read it yet, go do that now. 
I always seem to recommend books to you! But… I don't get many book recommendations. This might work, though. I guess.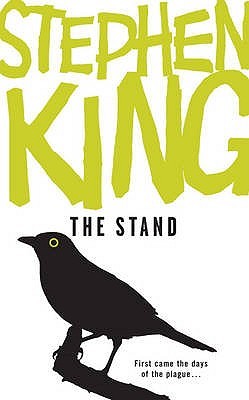 The Stand by Stephen King. I haven't actually read this book yet and I want to read King's preferred text, but my dad always recommends it to me. He tells me that I should read it. No joke, he gave me his last copy when he saw that I have a full shelf of my bookshelf is dedicated to Stephen King. My grandaddy stole his copy of King's preferred text, but he would have given that to me. I think it was one of the sweetest things that he did.
It's such a long book, and my mom was actually the one who told me to read it. She used to read a lot of Stephen King.  
Pick a book that you discovered through Booktube/Book Blogs.
I heard about Everything Leads to You by Nina LaCour on the ProblemsofaBookNerd channel on Youtube. Full disclosure, Cece is my favorite Booktuber and she reads and recommends a lot of LGBTQ+ books, so she's my go to for recommendations. She does Harry Potter chats and talks about different fandoms. So, I can't help but plug her here. 
Quite honestly, I've got nothing. Before March, I didn't really follow book blogs and I still don't follow any booktubers since I'm not a huge YouTube user.
Find a book on your shelves or e-reader with a one-word title. What drew you to this book?
I chose Graceling by Kristen Cashore because I think the cover is amazing and I've heard so many good things about this series that I can't wait to pick it up I mean it's about a badass girl assassin. Of course, the hype could kill it for me, but I'm optimistic. 

Okay, I've chosen Soleri by Michael Johnson. I was actually alerted to this book by Emma and it's turned out to be a really good book. Super close to finishing it. Probably will be done by the time this gets posted. It's an alternate universe imagining of King Lear and the end of the Ptolemy dynasty in Egypt.
What book did you discover through a film/TV adaptation?
Okay, here is another book I've never talked about. It's called The Hours by Michael Cunningham. It features three intertwining storylines, one featuring a fictional portrayal of the author Virginia Woolf, one featuring a housewife from the 50's named Laura, and another featuring a character called Clarissa.
Now, I could go more in-depth about the plot, but it's complicated and I don't think I can explain it and make it interesting. I saw the movie first and became obsessed with it. I was going through a rough period in my life and I watched this movie so many times. In the prologue of the book and the first scene in the movie, Virginia Woolf commits suicide so I would definitely warn anyone if they don't want to read or see this in the movie. Anyway, my mom refers to this as an "Old lady book/movie", but I loved it when I was a teenager. I don't think I'd recommend it to anyone, but I can't help but feel attached to it.
Funny enough, I've never actually read the book or seen it. But, I've seen it around and do somewhat want to read it. After all, I am the Grandpa Friend.
Yeah, you might like it, old man. 
My choice is IT by Stephen King.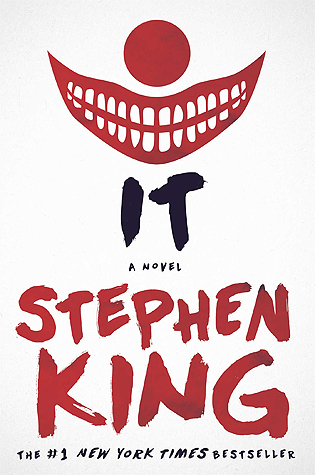 Long story short: My mom is a terrible person and told me it wasn't scary, fell asleep, and then left me to watch the three-hour mini-series all by myself. After getting over my fear, I tried to read it when I was in fifth grade. Failed. Finally listened to it last summer and it was fantastic.
Although, I still have a fear of clowns and the whole people walking around as clown thing scared the piss out of me. Especially when someone did it on my campus. This was the one that scared me the most:
Think of your all-time favorite book (s). When did you read them and why did you pick them up in the first place? 
I'm going to stick with Patrick Ness and talk about More Than This.
I bought this book from Powell's Bookstore and it sat on my shelves for months. I bought it on an impulse because I liked the cover and it was cheap. This was before I'd even heard of him. Also, my mom encouraged me to buy it because she wanted to read it and guess what? She still hasn't read it no matter how many times I bring it up. Flash forward until after I read A Monster Calls, I picked up More Than This which I had sitting on a shelf in my closet. I absolutely loved it. I haven't read it again, but I almost don't want to. The first time I read it, the book was perfect. I was intrigued, it broke my heart, and I enjoyed all of the main characters. I may be overselling it (and Patrick Ness), but it's hard not to when he writes such good books. 
Impulse buys are the best. I'm going to cop out with this one, though. And I'm going to take my own picture instead of get some stock pictures off Goodreads.
I'm picking Harry Potter in general. (Minus Cursed Child. We don't talk about that one.) That's my shelf where I keep the bulk of my HP books, although I still have more around. I have three complete sets. One in the original US covers, the UK covers (and editions), then the new ones that have Hogwarts on the spine. I love the series. It's my go to when I'm frightened or depressed or whatever. Whenever I couldn't go to sleep when I was a kid, I would read the first chapter of the first Harry Potter book. By the end of the first paragraph, I was relaxed and felt better.
I know about them because of the movies. When they came out, I was an infant. Literally, I was just barely a year old. By the time the movies came out, I was old enough. My mom read them to me and I would relate what happened to the people forced to sit next to me on the bus. I have so many memories of reading these books, some good and some bad. However, I picked them up because I was a child and the series stuck with me.