Yes, we got nominated for another award. Trust me, this boggles our minds as much as it does yours. We were nominated by Ash, so we really owe her a huge thank you. So, thank you, Ash! We really appreciate it since we do consider ourselves quite unique. (Your bloggers are an Aries and a Gemini. Trust us. We're bad at the whole humble thing.)
The rules are to provide a link to the blogger who nominated you, to answer the questions, nominate 8-13 more people, and to, finally, ask those people 3 questions of our own.
Caidyn's answers will be in blue.
Chantel's answers will be in purple.
1. Would you rather only be able to read 3 books or only be able to read books backwards (ending to beginning)?
Only be able to read three books. Because I'm picturing having to read books from the last word to the first word and that sounds horrible.
Not gonna lie, reading some books backward would be a more pleasant experience with certain books. However, since this is a purely hypothetical scenario I choose reading three books. The real question is, what three books? 
I thought that we'd be choosing our own books, so that's all good by me. Unless it's choosing books that you hate.
2. If you could remove any book from your memory which would it be?
Anything by Philippa Gregory.
I wish my dear brown eyes had never read Adam by Ariel Schrag. They didn't deserve such a thing and my poor brain was confused by thinking this is a good book. It makes me angry now. The blurb on Goodreads makes it sound a lot better than it actually is. It should NOT be categorized as an LGBT+ book. It is not, I assure you. Also, I read like a paragraph from 50 Shades of Grey and that was too much for me. 
That's the book that you told me about, right? Or I think that you did. It sounds familiar. Fun fact: My mom's a librarian and sometimes I check out books or movies just to see if she'll bring them home. I did that with 50 Shades of Grey.
Yeah, I've ranted about it over on other tags so if you are curious, go check those out! You are pure evil. 
I know.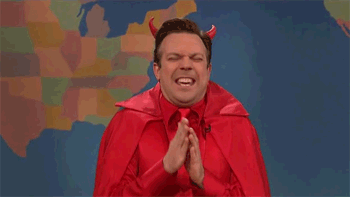 3.  If all of your books got stolen on a cargo ship in the middle of the ocean and the thief said "You have to jump overboard in order to get them back" would you do it?
Okay, this is actually a really hard question for me because I'm terrified of open water. No joke. I can't even look at pictures of open water without getting freaked out. It's probably a clinical phobia by now, so just thinking about jumping in the middle of the ocean when I haven't gone swimming in any type of water in over five years gets my heart racing. But, I would do it. I would jump in the fucking ocean to get them back. Or I'd say fuck you and just buy everything on my Kindle.
Um, no because I'd drown. I can't swim and I'd rather live. Fuck you books. I'll just buy new copies. 
I'm terrified of open water and I can swim. I live in Kansas, with no water around me whatsoever, and I can swim. 
I never learned and nearly drowned when I was a child, so not interested. 
I'd try to rescue them for you.
Aww!
---
Our questions:
Coffee or tea and why?
If you could meet any author dead or alive, who would it be and why?
If you could get any bookish tattoo, what would you get and why? (This doesn't count bookish tattoos you might already have, but feel free to share those, too!)